Zhegui Single Sign On
Mission Statement
We believe that:
Multi-applications share same account/password
Single Sign On should be easier to use
Least modification is need for your existing apps
Configuration change should be done without restart
What our single sign on can do
Improved user productivity. Users are no longer bogged down by multiple logins and they are not required to remember multiple IDs and passwords. Also, it's easy to reset forgotten passwords by administrator.
Improved developer productivity. SSO provides developers with a common authentication framework. In fact, if the SSO mechanism is independent, then developers don't have to worry about authentication at all. They can assume that once a request for an application is accompanied by a username, then authentication has already taken place.
Simplified administration. When applications participate in a single sign-on protocol, the administration burden of managing user accounts is simplified. The degree of simplification depends on the applications since SSO only deals with authentication. So, applications may still require user-specific attributes (such as access privileges) to be set up.
Schematic diagram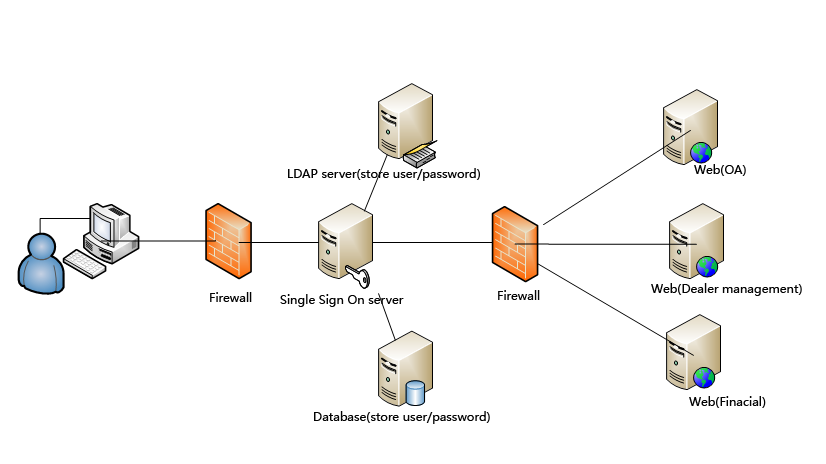 Key features
ZSSO is a web-based Single-Sign-On system. Work as a reverse-proxy.
Easy to use
Least modification is need for your existing apps
Configuration change should be done without restart
All background applications behind ZSSO share same users' credentials.
User information and credentials can be stored in database/LDAP.
Sign-in/sign-out log, web access log/access statistics.
Support J2EE/ASP/ASP.NET/PHP based background applications.
Access control With user+application / user+url.
Seperate configuration parameter baed on each back-application, not whole SSO.
Muliti-language with English/Chinese.
Operating System: Windows XP, Windows 7, Windows server 2000, Windows server 2003,Windows server 2008,Linux
High Stability, Efficient.
Synchronized account data to your apps by webservice(XML) for creat / modify / enable / disable account